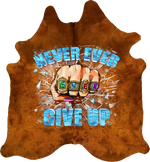 Never Ever Ever Give Up - Gold Rustic
Natural Cowhide Leather - Custom Trim Choice
We're eager to answer any questions you have about our products. Please use the chat or free phone call widgets below, or send us an email by clicking here.
| SPECIFICATIONS FOR THIS HIDE | |
| --- | --- |
| Type | Natural cowhide leather (hair-on) |
| Colour & Pattern | Brandished, warm apricot colour with spotted areas of darker tone variation provide rich colour, but easy neutral piece |
| Size | LARGE ---- 80.5 in. W x 88 in. L -- 80.5 inches width left-to-right x 88 inches length top-to-bottom -- see image diagram above |
| Art Design | Never Ever Ever Give Up 1 |
| Limited-Edition Number | Range 20-39 of 250 |
| Graphic Artwork Size | Approximately 48"x48" centered |
| Shipping Time | Estimated 6-8 weeks after order, may be faster based on our production schedule |
| Brands | Yes - brands in shapes of triangle, "3" and "J" located along the base, barely noticeable from typical viewing distance, each approx 2-4 inches across |
| Notable Marks or Blemishes | None, although small marks are always present on natural animal hides - see 'The Nature of Animal Hides' below |
| Intended Use | Floors or walls, residential or commercial |
| Approval | Customer approves actual product photographs before shipment |
| Embellishments | Custom trim |
| Protective Coating | UV and abrasive mild gloss coating |
SHOP SAFELY WITH OUR Be OUTSPOKEN BUYER GUARANTEE
After we create your hide artwork and before we attach your trim and ship your hide to you, we will send photos and you will have an opportunity for a full refund. Then, once you receive your hide you'll have 30 days to return, undamaged, for a full refund.
Full refund if you're not satisfied with pre-shipment production photos we will send to you.

Full refund within 30 days after receiving your hide if you are not satisfied.
For more details, please click here.